On Monday, February 20th, the ACL's Queensland Director held a Meet Your Candidate Forum in Kingaroy. The South Burnett Business News went along to the forum and wrote the following story below on its
website
.
Kingaroy Has A Very Polite Night With The Candidates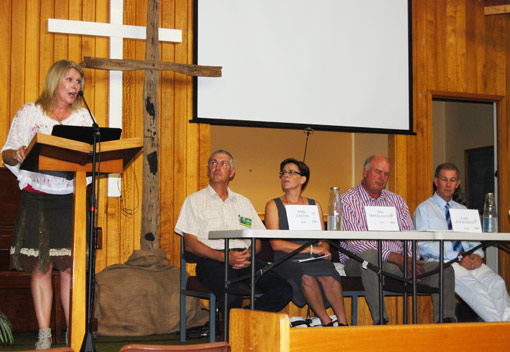 Photo courtesy of South Burnett Business News ABOVE: Australian Christian Lobby Queensland State Director Wendy Francis, John Dalton (Independent), Deb Frecklington (LNP), Carl Rackemann (KAP) and David Thomson (Independent / Queensland Party)
February 21, 2012 - On polling night, election pundits are expected to keep a close eye on the State seat of Nanango to see how Katter's Australian Party will perform.
The interest, though, doesn't seem to be shared by local residents.
At a forum staged in Kingaroy last night - organised by the Australian Christian Lobby - just 38 people showed up, and it was clear from the T-shirts that at least a few came along with the candidates.
Four would-be MPs were there: Deb Frecklington (LNP), John Dalton (Independent), Carl Rackemann (Katter's Australian Party) and David Thomson (Independent / Queensland Party).
Retiring Nanango MP Dorothy Pratt was also there, greeting all the candidates very warmly (including Rackemann, whom she greeted with a quick kiss despite her alleged blow-up with Bob Katter late last year).
Apologies were received from The Greens candidate Grant Newson (who was at the Jondaryan protest, see below) and the ALP's Virginia Clarke, who was ill and had suffered a recent family tragedy.
The forum was moderated by the ACL's Queensland Director Wendy Francis. All candidates were given five minutes to introduce themselves and discuss their background and philosophies. Wendy then asked for questions, which were submitted in writing from the floor.
Predictably for a conservative rural seat, all candidates supported religious instruction in schools and the school chaplaincy program. All were opposed to gay marriage and were pro-life.
All believed in a balance between farming and mining and all thought suicide was a serious problem in rural areas. Equally, none are going to recommend preferences.
The only differences emerged when the candidates were asked "If the Parliament was equally split, which side would you support?" (this was put to the minor parties / Independents only).
Rackemann refused to rule out that KAP could support the ALP. He said the party would return to each electorate to gauge voters' views and then act accordingly to guarantee stable government. Thomson said his position was essentially the same.
Dalton said he would consider what was best for the electorate and would approach each party with "a bucket list" of demands which would have to be met before he would enter into negotiations.
That was about as controversial as it got.
After a few obvious "Dorothy Dixers" from the audience, the Forum wound up as sociably as it began, with a cup of tea.
KAP candidate Carl Rackemann said today it was "bull" that a vote for him was a vote for the LNP or ALP.
"Let me be clear, a vote for Carl Rackemann is a vote for Katter's Australian Party, not the LNP or the Labor Party," he said.
"Bob Katter will be here in the Nanango electorate on March 15. If people are concerned that a vote for Katter's Australian Party is a vote for the Labor Party or the LNP, come ask him yourself."